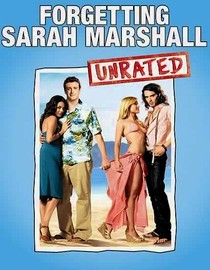 After his TV star girlfriend, Sarah Marshall (Kristen Bell), breaks his heart, Peter (Jason Segel) wants nothing more than to enjoy his vacation in Hawaii. But there are two big problems: No. 1, Sarah's vacationing at the same resort; No. 2, she's bringing her new beau. Mila Kunis, Paul Rudd and Bill Hader also star in this madcap relationship comedy from hit producer Judd Apatow (Knocked Up, Superbad).
I have no idea if I was in a mood when I tried to watch this or not, but I found Forgetting Sarah Marshall vaguely annoying. I have watched other movies where Judd Apatow was involved and I enjoyed them, but this time I thought everything felt too forced. It had a couple of funny moments, but overall I couldnt get into the movie.
One thing that felt forced was all the sexual, or dirty humor. It just didn't seem to fit with all the different vibes the movie was trying to give. One minute I felt the movie was a little serious, and then someone's butt would appear. I understand that many movies have butt shots, but there isn't anything funny about them. In the first few minutes of the movie we see Jason Segel's butt more than five times. Once got the point across, and then I felt like the camera was just situated in a way to to get people to laugh at it. The awkwardness was already captured he first time seeing it. I didn't need constant viewings. There was a lot of him hugging people while naked too, and the concept isn't funny more than once. The sexual humor was extremely awkward too. It was more embarrassing than funny to me.
I actually didn't think there was enough sympathy for Sarah Marshall though. She explains why she left Peter, and honestly it was good reasoning. I understand she didn't go about it in a good way, and could have handled her lack of want to be in the relationship better, but people make mistakes. Peter, and Sarah definitely don't need to go back to each other though. If there is anything this movie is good at though it's mixing humor while trying to appear serious. I will give it that.
If you are a fan of Judd Apatow you may like it. I have watched things like The Hangover, and other Apatow movies, but for some reason the humor felt less forced in those comedies, which used the same gags for laughs. You can check out the movie at
Amazon
.